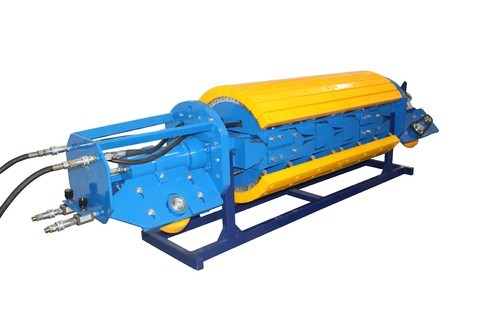 SPM EQUIPMENT offers a versatile Wedge Bending Mandrel that can accommodate a wide range of diameters and is adjustable for various wall thicknesses within the specified range. Our wedge bending mandrel is designed to fit pipe sizes ranging from 16 to 48 inches, and we also manufacture customized mandrels tailored to meet our clients' specific needs and requirements. By using our conversion kits, the mandrel can be adjusted to cover two pipe sizes and can accommodate any wall thicknesses within the specified range. Furthermore, we provide our Wedge Bending Mandrels in both manual and motorized versions for greater flexibility and ease of use. The Wedge Bending Mandrel offered by SPM EQUIPMENT is designed to meet the bending requirements of top-grade pipes used in oil and gas pipeline projects.. SPM EQUIPMENT adjusts the mandrel to the required setting based on the pipe specifications, including the wall thickness.. The bending mandrel applies a robust radial support to the inner walls of the pipe while remaining flexible lengthwise, ensuring a seamless bend and maintaining the diameter and roundness of the pipe.
Optional :
A conversion kit for hydraulic bending machines is available to enable the operation of mandrels.
A portable hydraulic power unit is available for operating mandrels.
Features :
The process prevents buckling and eliminates out-of-roundness in the bend.
The equipment is designed to be operated by a single person for both expanding and contracting, as well as for travelling in and out of the pipe.
The straightforward design and use of certain parts result in a cost-effective maintenance.
The travel wheels are mounted in a way that provides self-leveling of the mandrel inside the pipe.
An auxiliary hydraulic power unit is not required for normal operation.
This equipment is available for pipes ranging in size from 16″ to 48″.
It can be adjusted to accommodate any wall thickness within the specified range of the mandrel.
The maximum safe working pressure for this equipment is 225 PSI (15.5 Bar).