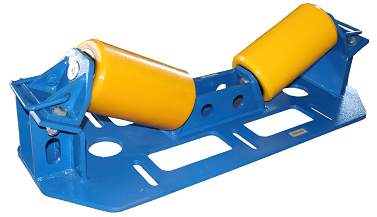 SPM EQUIPMENT provides an extensive selection of beam clamp rigging rollers that are available in Russia, USA, UAE, Australia, and Malaysia. These rollers are utilized in the installation of oil and gas pipelines where space is limited and crane access is impossible. They are designed to vertically pull and push pipes, helping to accelerate installation speed while safeguarding costly metal piping from harm.
All of our rollers are coated with urethane and feature sealed bearings for smooth, damage-free rolling. Additionally, all components are replaceable with a quick bolt-together design. Our standard sizes range from 2" to 48".
SPM beam clamp rigging rollers are designed to be lightweight and come equipped with beam clamps, allowing for quick installation. Additionally, there are various pipeline roller head options available so that pipes can be easily, safely, and efficiently installed.
Pipeline Roller – Feature & Advantages :
The compact designs of the equipment facilitate easy rigging even in confined areas.
All models come with convenient carry handles as a standard feature
Each roller is equipped with two bearings to ensure smooth and resistance-free rolling.
All models come with a safety leash included for added safety
Utilize premium polyurethane material.
Designed for user-friendliness and convenient storage
Pipeline roller system built to withstand heavy-duty use.
A secure and safe clamp system is available for quick and damage-free mounting of the system to a structural beam.
The sides of the equipment are equipped with handles for safe and easy lifting and installation.

The options of an extra-small footprint or an extra-large capacity are available.