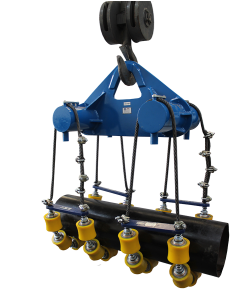 SPM Equipment's Lowering Cradles are an essential tool for line travel operations. These cradles use Polyurethane Rollers that distribute pressure evenly on the pipe, reducing the risk of egging and damage to the pipe coating that can occur with regular cradle rollers. The Polyurethane Rollers also provide a smooth operation, easily passing over weld seams without getting stuck. SPM Lowering Cradles are designed for easy disassembly and can be conveniently stored and transported. They comply with all applicable standards. By using multiple Polyurethane Rollers, the pressure on the pipe is evenly distributed, eliminating the risks of damaging the pipe coating and deforming the pipe.
The design of SPM Lowering Cradles ensures that the rollers move smoothly over weld seams without getting stuck, while high-quality materials used throughout the design guarantee optimal performance. The cradles come equipped with heavy-duty Polyurethane Rollers with double ball bearings, which do not deform under the weight of the pipe or during storage due to the high mechanical strength of the material. These rollers also have excellent damping characteristics, allowing for exceptional dynamic load-bearing capacity and top-notch performance. When disassembled, the Roller Cradle can be reduced to a convenient size for storage and transport. Additionally, the design incorporates a high safety factor, with carefully chosen materials such as Frame Wire Rope Clamps and Rollers, ensuring safe operation.
Feature & Advantanges :
The standard size available ranges from 6 inches to 64 inches.
The use of multiple polyurethane coated rollers spaced equally in the design provides even support to the pipe and eliminates the risk of "egging of the pipe".
The design allows for easy disassembly to facilitate transport and storage.
The unique damping properties of the rollers allow for exceptional dynamic load-bearing capability.
The design of our pipe lowering cradle allows for quick disassembly, making it convenient for transit and storage purposes.
To prevent corrosion, all springs and axles are coated with zinc.
We take into account a high safety factor during the design process and carefully select materials such as wire rope, nylon or polyurethane rollers, frame, clamps, and more.