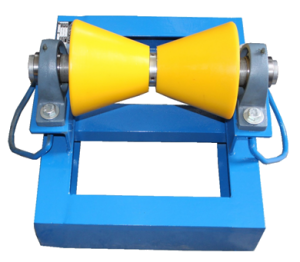 SPM EQUIPMENT provides a range of Heavy Duty Pipe Roller Cone Type with PU Coating. These rollers are designed to handle heavy loads while ensuring the structural integrity of the pipeline during its construction and deployment.
Our latest design includes several features that offer a straightforward and cost-effective solution for handling pipes and providing a rolling mechanism.
The heavy-duty polyurethane coating of our pipe roller helps protect the exterior of the pipe during pushing or pulling, while also ensuring proper support, safety, and operation of the pipe system.
Feature & Advantanges :
The polyurethane material used has a high load capacity.
Our pipe rollers are designed to minimize drag forces during the horizontal movement of pipes.
Bearings with anti-friction properties.
The frame design is lightweight..
This product is offered in a range of sizes, accommodating pipes from 6 inches up to 48 inches in diameter.